Equipment
State of the Art & Finishings
Xerox Igen4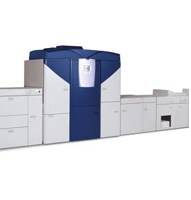 Our Xerox IGEN4 full color digital press is capable of printing high end gloss paper up 20" x 19" full duplex. Finishing: Booklet Making, Case Bound, Flats, Lay Flats, Perfect Bund, Stitched Sets, Tape Bound. Stocks: Gloss, Matte, Dull, Silk Uncoated, Textured, Specialty Stocks, Recycled, Perforated, Tabs, Transparencies, Wide variety of labels, Synthetics, DocuCard, NeverTear, DuraPaper™.
Xerox 1300 High Speed Digital Web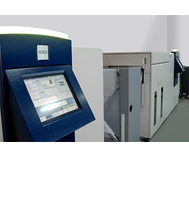 Our Xerox high speed digital web runs at 600fpm. It's paired with the attached Hunkler finisher which produces cut and trimmed stock of extremely high quality. This machine is also capable of variable data printing.
Miller Offset Web
For larger print runs, our 10 color Miller fits the bill. At speeds of 20,000fpm+, this press will print 5 over 5 full color, fold sigs, sheet, cross perf, trim on the fly or convert to roll to roll for offline finishing.
Xerox Sheet Fed Digital
Xerox Nuvara sheet fed for high quality B&W variable data imprints. The Xerox IGEN4 full color digital press is capable of printing high end gloss paper up 20" x 19" full duplex.
Heidelberg Offset Sheet
Our 23" x 29" Hidelberg with automation is capable of taking color readings directly from the art department and presetting the ink.
6 Color Offset
Our offset department also features a six color web that will print roll to roll for offline finishing at speeds up to 30,000 cutoffs per hour, with a 12" cutoff and up to 18" wide.
Roll to Roll
Both digital web and offset web have the capability to run roll to roll for offline finishing and variable data.
Perfect Binding
We have four perfect binding machines, the largest being a 17 clamp sulby sorter and binder, that have the capability of running and sorting 17 stations at over 4,000 books per hour. The sulby then automatically offloads into a three knife trimmer for final processing. The smallest binder is one station for thin binds, the next size up is a seven clamp auto binder.
Collators
Six collators line the production floor with two signature collators and four sheet collators with up to 40 bins. The four bin's can collate 320 pages in one pass.
Plastic Coil
With our own coil forming machine, we can produce any size coil from a color spool of wire. With automatic coil binding machines, our plant can produce thousands of coil bound books per day.
Twin Loop
Many customers perfer wire binding for their books and manuals. A square hole is punched and wire binder is inserted.
Case Binding
Our equipment will produce up to 5,000 cased either in cloth, leather or printed cover. The books are library bound before they leave the plant.
Sewing Machines
We have sewing machine stations from the heavy duty that will drill and sew through 2" books down to smaller machines for perfect back books and bindings printed on gloss paper.
Pad Gluers
One of our specialties is note pads with the capability of printing over 1 million pads per week. These custom pads can be printed, chip board inserted and glued at high speeds.
Shrink Wrappers
With several tunnel shrink wrappers we can wrap single items for shipping and individual sales.
UV Coaters
Our book covers are UV coated offline with gloss UV coating. Press sheets from any of our presses can be UV coated as well.
Lamination
We can laminate one or two sides offline in our large roll fed laminator. We also have a linen embosser that can stamp any cover to look like linen.
Foil Embossers
Any cover can be foil embossed with a number of different materials, including gold and silver foil.
Variable Data
All of our digital equipment is loaded with variable data software and our fast online ink jet system can personalize any printed sheet on the fly at over 10,000 per hour.
Offline Sheeter
Our custom built off line Maxson sheeter can take a printed roll, cut and slit it in several places at a high speed.
Auto Punching & Die Cutting
Five auto punches can punch any printed job at a high speed. Die cutting is done with a punch through die system, meaning it can cut an entire book or any design at one time.
Cutters, Trimmers & Folders
Several offline cutters and trimmers finish the jobs before they leave the plant. Folders can fold 32 page sigs.